Getting started
Welcome to Onirix developer portal!
Create amazing augmented reality experiences
Onirix is the platform that allows you to create different types of augmented reality experiences in a very fast and easy way. Onirix consists of three different components: Onirix Studio, a web platform to manage all your projects and contents, the Onirix Players which is a set of native apps for iOS and Android, and the Onirix Software Development Kit (SDK) to create your own augmented reality applications:
This is the Onirix Developer Portal that provides documentation form Studio and the open source SDKs to help you getting started.
Project types
As you may know, Augmented Reality mainly consists on tracking something to place virtual content over it in a way that it seems as part of the real world. In other words, it allows to create virtual layers over reality with the purpose of enhancing or augmenting it, and thus the term, Augmented Reality.
Onirix let you create three types of projects: Targets, Places and Spaces.
Take a look to the following table to see what type of project you should choose depending on the thing you want to place virtual content over:
| Trackable | Project type | Examples |
| --- | --- | --- |
| Images | Targets (marker) | 3D content on a magazine cover for marketing purposes. |
| Surfaces | Targets (surface) | Check how an object looks up to scale. i.e: furniture. |
| Locations | Places | Find apartments for rental just looking to the world. Maps are boring. |
| Objects | Spaces | Describe parts of a complex machine for training or education. |
| Scenes | Spaces | Vision based route navigation. |
Projects can only be of one type, but you may mix several project types inside de same app if the SDK you choose supports it.
Onirix Architecture Diagram
The next diagram will show you how the different parts of Onirix are related: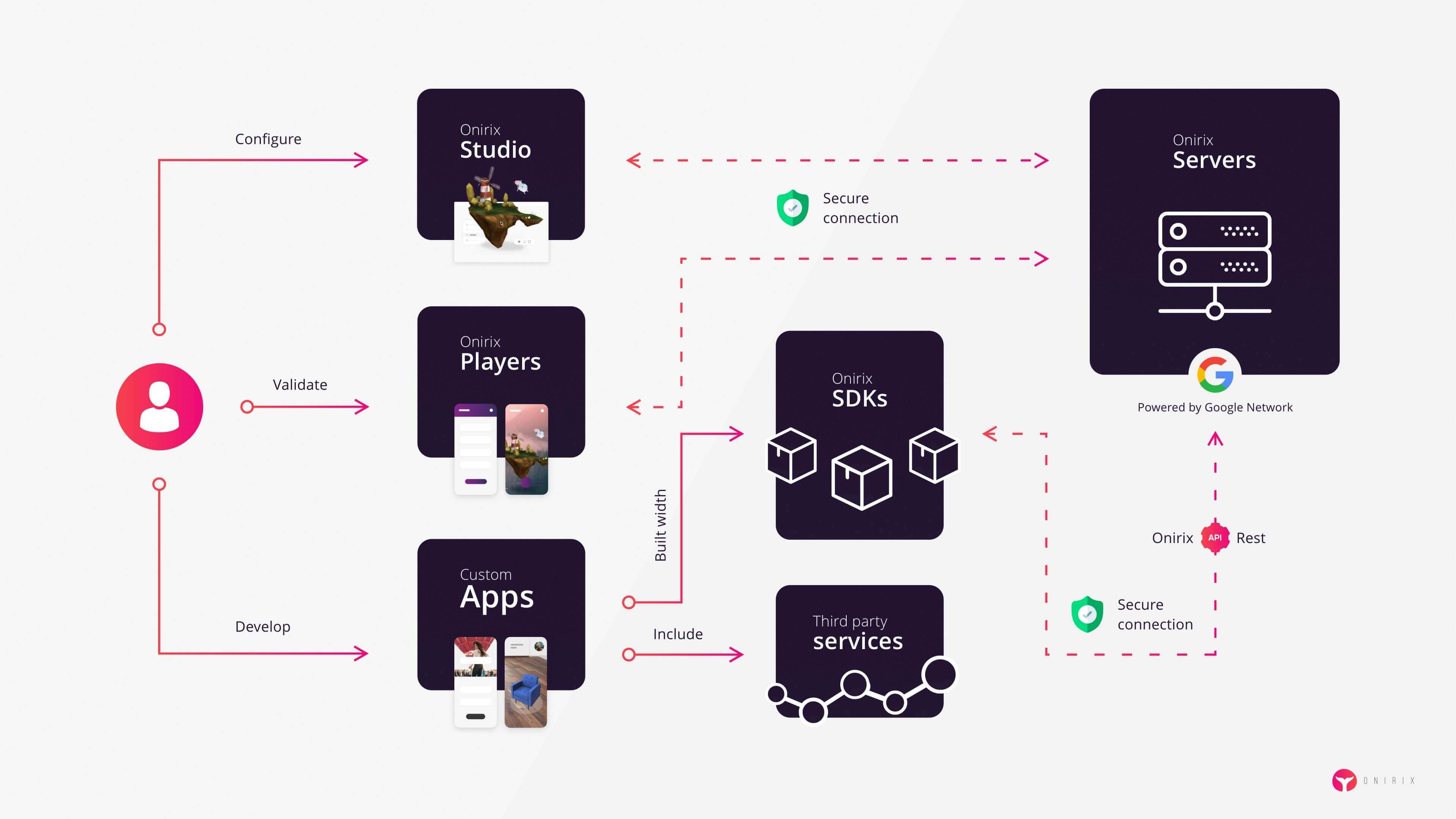 Onirix users may interact with any of the three main components of the platform: Studio, Players or the SDK.
Studio is a web application that allows to create augmented reality projects, and configure them by adding 2D, 3D or multimedia elements. All of the content is stored securelly inside the Onirix Cloud, a set of virtual servers and containers that provide global availability, scalability, and security to the platform.
Players are a set of generic apps available from the main app stores (Google Play, App Store) that allow users to visualize their projects in a very easy way and with no need of programming.
SDK allows to create custom applications with any look&feel and without dealing with the complexity of AR. SDKs will set up the AR layer for you.
Both SDK and Players internally communicate with Onirix Cloud to retrieve the contents previously created within Studio. All the data is encrypted end-to-end and secured from falling into wrong hands.
Find out all about Onirix